How to Buy a House the Easy Way
All of the best house buys on the market sell quickly. You've heard about them. They were listed and sold within a day and somebody got a really great deal. How do you get in on these hot buys? Since the Calgary Real Estate Board instituted its Website, Realtors have been getting better and better access to the best buys when they come on the market. Here's how you can get access too!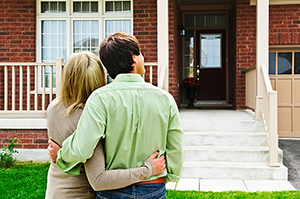 Contact me and we will set up a time to get together and talk about how I can help you buy a house. Buying a house, if it's your first house or your 10th house, can be an exciting process. My job is to make sure you get what you want, and you can afford it. So before we talk about the specific house you'd like, we will discuss how much house you can afford.
Some people can buy a new house outright...in other words they have enough cash on hand to simply buy the house they'd like. But for most of us, we will need to finance some of the purchase price. How much you can borrow to finance your new house depends upon two lending principles: the GDSR and the TDSR.
The Gross Debt Service Ratio refers to the percentage of your gross family income that you can apply to paying your housing costs. This percentage is usually set at about 32%
The Total Debt Service Ratio refers to the percentage you gross monthly income that you can apply to your housing costs plus servicing any other debt that you have. This is usually set at about 40% of your gross monthly income. So although you may spend up to 32% of your gross monthly income on housing costs, any other debt, like car payments, credit card debt, or lease payments cannot add any more than 8% of your gross monthly income to your housing costs.
There are some other expenses involved in buying a house, some of them you may not be aware of. There are the one-time costs like down payment, Legal fees, Inspection fees, and pro-ration of property taxes. And ongoing expenses like utilities, maintenance, and insurance.
After we get the "how are you going to pay for it" out of the way, then we can start to talk about the fun stuff! What does you Dream House look like?
Where do you want to live? What kind of house fits your lifestyle? How many bedrooms, how many baths, is a yard important, is a garage important? You will have lots of things that are important to you and we need to talk about them all and assess whether they are all realistic in light of our financing conversation.
Then... and this is where you get the inside track on the best deals, we can set you up as a VIP buyer. This is a free service and along with my personal attention to your requirements, here's what you will get:
Daily updates of all of the new MLS listings that fit your criteria
The opportunity to be the first to see a house that was just listed
The opportunity to make the first offer on new listings
You have me along to show you the house and answer any questions you might have
You have me to handle the negotiations for you and provide the right advice for the best price
So if you are serious about buying a house, contact me now and let's get started!