Guide to Buying a House
The home you buy is usually dictated by your lifestyle. Whole neighbourhoods have been developed around how certain groups of buyers live their lives. Describe your lifestyle to your Realtor and, in all likelihood, he/she will be able to list neighbourhoods in their city where like-minded individuals live.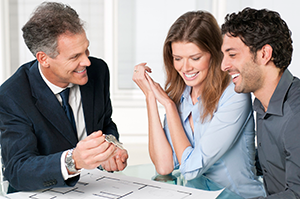 Here are some typical options that cities offer.
City Centre
Land prices in downtown areas tend to be more expensive so even though the cost to build homes is the same, the price of land dictates that a home in the city centre will be more expensive. Offsetting the price is the fact that you can walk to most services, perhaps even to work, so your travel costs will likely be less.
Suburbs
Kid friendlier, newer homes, outdoor space availability, more parks, community involvement opportunities, newer schools all appeal to family life. Homes are likely to be a longer commute and neighbourhoods not so walk-able.
Surrounding Towns & Villages
Definitely a longer commute and likely less services, but easier to get to know your neighbours and easier to participate in community functions.
Acreage
Acreages can vary from a small farm to a suburb-like home with just a bigger lot. Depending upon what you want to accomplish, acreage living offers a multitude of options.
Where do You Fit?
You likely have a pretty good idea of what sort of home appeals to you. To help you with the decision, here's an overview of typical housing terminology.
Single-family Detached
A separate home on its own lot. There are a wide variety of styles to choose from and a wide variety of lot sizes as well. One of the indicators of where you should look for a single family detached is how much of the lot you want your home to cover.
Semi-detached
Two homes that share a common wall. Homes can cost less than a detached home and usually with less outdoor space.
Town House
A townhouse is a home in an attached row of similar homes. Except for the end units, every house has two common walls with their neighbor. May be part of a condominium complex, but not necessarily.
Condominium
As a condominium owner you own your unit and a share of common areas. This includes hallways, elevators, plumbing, electrical, garbage service, and may include any recreational areas as well. In addition to mortgage and taxes that you pay yourself, you will also pay a monthly fee that maintains the common areas.
Re-Sale Home
The advantage of buying an existing home is that, in most cases you can see what you are buying with all of its advantages and disadvantages. Subject to a home inspection report, what you see is what you get.
New Home Purchasing
Building a home is a complicated process. Building a home that is your first home is very complicated. But if you are prepared to supervise the process carefully, you should be able to build exactly what you want. Ask for all of the advice you can get.